Recycling
Cendres+Métaux started out as as a smelter and, 135 years later, is still a sought-after partner for recycling precious metals. Recycling takes place at the start and end of the precious metal cycle and is a key aspect of our range of services.
We are aware that recycling precious metals is a matter of trust. This is why we look to build a good relationship with our clients and ensure transparency at every stage of the process. We do everything we can to respect the environment during the recovery of precious metals. We are also always trying to increase the proportion of precious metals being recycled. Cendres+Métaux is a certified member of the Responsible Jewellery Council (RJC) and a member of the Responsible Minerals Initiative (RMI). As part of our RJC membership, we follow its Code of Practice (CoP) and Chain of Custody (CoC) standards. These certifications attest that we act sustainably and that the products made along our supply chain are conflict-free.
State-of-the-art technologies and processes
Trusted recycling of precious metals
Transparency at each stage of the process
Environmentally friendly recovery of precious metals
Cendres+Métaux is a certified member of the Responsible Jewellery Council (RJC) and Responsible Minerals Initiative (RMI)
We help protect the environment by mainly using recycled precious metals in our production
The process of our recycling services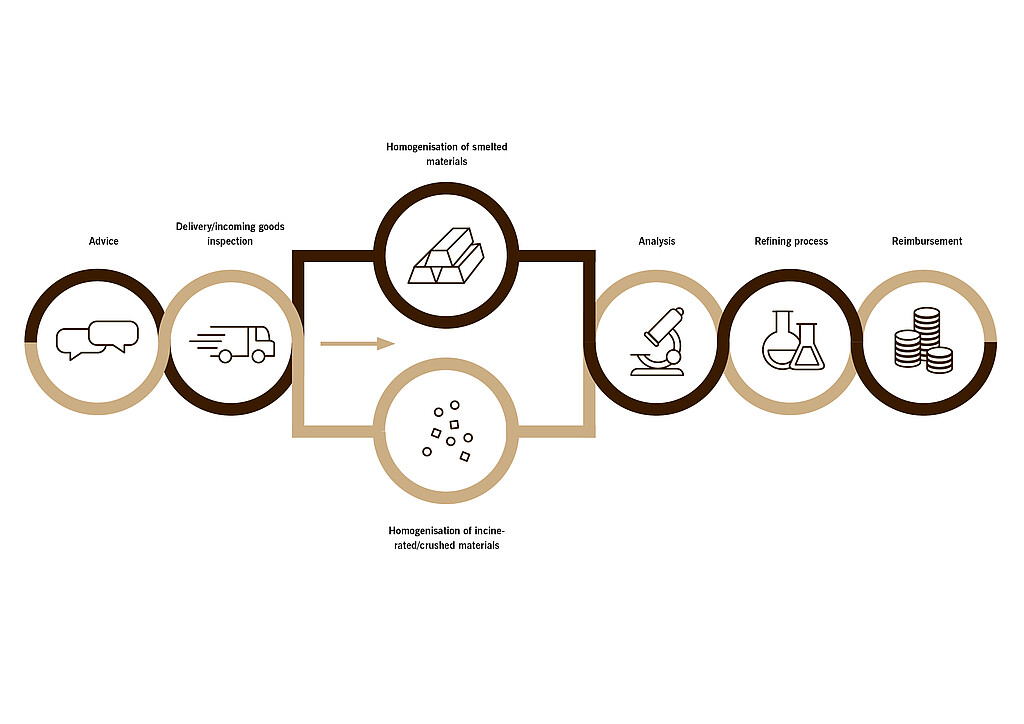 Consultation
We believe in open, honest communication from day one, and are committed to advising and informing our customers quickly and with full transparency.
You can reach us at the following times:
Monday – Thursday
07:30-11:30 / 13:30-16:00
Friday
07:30-11:30 / 13:30-15:00
Our company will be closed for Christmas/New Year as follows:
23.12.2023 - 02.01.2024
From Wednesday, 3 January 2024 we will be back for you.
Delivery/incoming goods inspection
We use a wide range of inspection techniques to determine the point of origin and processing method required to handle every item delivered to us upon its arrival. The item is then sealed back up and confirmation of receipt is provided.
The processing method used (smelting, grinding or incineration) varies based on the item's constituent materials. Once the incoming goods inspection is complete, we are able to carry out our calculations and confirm the payment method. Each job load is analysed separately and recorded in SAP under an individual identification number, which guarantees that items remain traceable at all times. This is where the accuracy and efficiency of our approach sets us apart, as it means that we can offer our customers a streamlined, swift service while keeping them up to speed at every stage of the process.
Homogenisation – analysis – reimbursement
The techniques used in the homogenisation stage depend on the materials being processed. In smelting, the molten material is poured into casts and homogenised as ingots. Certified metallurgical assayers at our accredited analytical laboratory then determine the purity of the metal by analysing samples taken from each ingot.
It is at this point that the customer is either paid or has their account credited. What makes Cendres+Métaux Luxury+Industry stand out is the sheer speed of this process, which minimises any risk related to the exchange price of precious metals.
Having been analysed, the ingots are then moved on for refining. The metals are selectively broken down and we extract precious metals such as gold and platinum in an extremely pure form.
"Waste" or "low-grade" materials are incinerated, then the ash is ground, resulting in homogenisation. This process enables us to remove any organic matter. The remaining material is then tested in our accredited analytical laboratory and the customer is paid.
Due to legal regulations we are obliged to verify the identity of our customers and the legal origin of the precious metals which are handed over to us for processing.
No assets are accepted which come from criminal activities, originate from criminal or terrorist organisations, or which are used to finance the same.
Conditions for the acceptance of waste precious metals
Originates from a business that holds the necessary approvals
The relevant obligations according to the Precious Metals Control Act (PMCA) and the Anti-Money Laundering Act (AMLA) have been fulfilled
Foreign goods can only be accepted if accompanied by proof of correct importation into Switzerland (import declaration)
The approval to exercise intermediation in the finance sector according to Art. 14 AMLA must exist
If you are not yet a customer of Cendres+Métaux Recycling, we require the following documents:
Form to identify the contractual partners and beneficial owners:
• Legal entities FO 7.242
• Physical persons FO 7.239
Certified copy of an official identity document (passport, ID card)
Copy of extract from the Commercial Register – no older than 12 months – if available
In certain cases, we also require confirmation of power of attorney
Please include completed accompanying form FO 7.241 with every delivery
Forms must always be signed by the authorised signatory(ies)